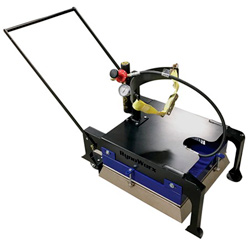 The RY2X2IR-V1 will bring distressed asphalt back to life. Infrared technology allows you to heat up and soften damaged areas so that they can be re-worked and compacted to appear brand new. In as little as 5 minutes this heater will have the asphalt brought to its original mixing temperature, allowing for effective and cost-efficient repairs. You'll now be able to spend minimal time repairing potholes, bird baths, cracks, and surface imperfections on both new and used asphalt.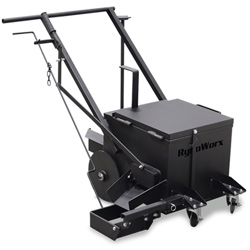 The RY10MS was designed to load, dispense, and maintain hot material directly from skid mounted or trailer mastic kettles. A slanted, ultra-low-profile design allows you to confidently load mastic material from either the front or right side of the kettle. Material flow is carefully controlled through a large, rectangular gate valve which places hot material near the centre of an easy-to-swap ultra-heavy duty 8″ square steel shoe.



We've engineered and built a new generation of machines that are tougher, more efficient and safer to use than any already on the market, allowing you to maximize your business and maximize your profits. Don't believe us? Check out our signature applicator, the RY10MA-Pro and then read what our stoked customers have to say about it.
Watch the RY10MA-PRO in Action!
RynoWorx Equipment is designed by guys who have worked in this business. It shows in every detail, like the flame-out-proof burner on my RY10 Pro.
We used the RY10 on our runway at our flying field. It performed great. With the help of your machine we should be able to maintain the runway in great condition for years to come.
Contractors are thirsting for better ways to get things done! Partner with us and together let's help them Maximize Their Business!